You can input all the metadata into the EXIF section of your file using Geosetter. Double click the image, or right click and select 'Geosetter' then 'edit metadata of image file'. From the 'source/description' tab fill out the boxes with your information.
If you have multiple shots of the same thing then you can edit all the image's data at once by selecting all the images and then applying the information to all the images.

Select the 'Source/Description' tag in the edit data window and fill out the information accordingly. In this example it will look like this: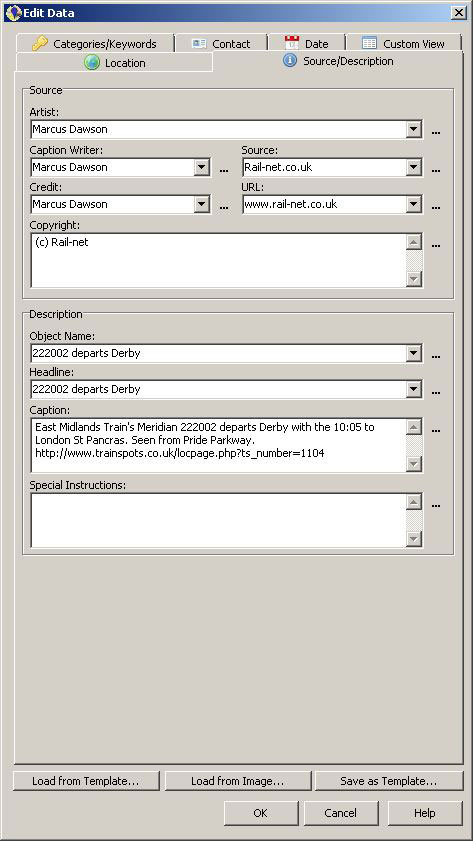 Then change tabs to the 'Categories/Keywords' and enter in as much information as you need. These keywords are used by sites to categorise images for their search engines. It is important to include the keyword 'Trainspots' when filling out the images tags.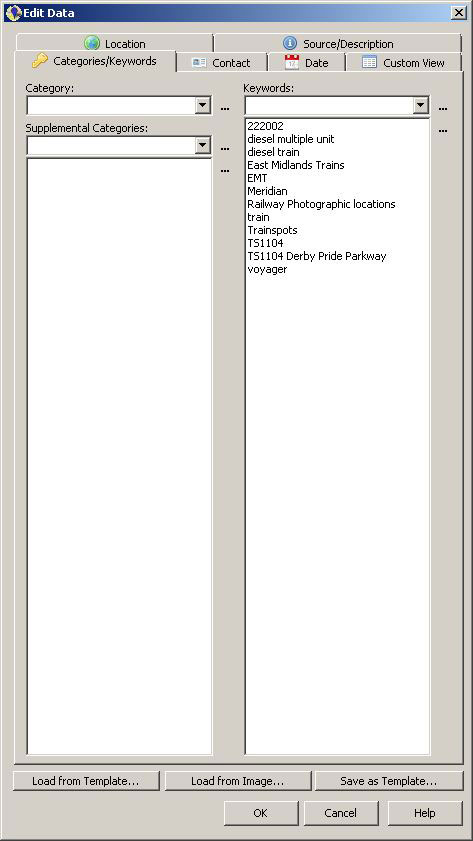 Different sites implement the use of the EXIF data in different ways. As of September 2011:

Panoramio:
Translates the 'object name' field to the title.

But ignores everything else like 'Keywords', 'Titles'.

But it automatically reads the geotagged info and puts it on the map. The image is then viewed and can be selected for viewing Google Maps. You can cut and paste your 'caption' to the Comments box if you wish. The tags also need to be entered manually.

There is a Panoramio Group for Trainspots.

Panoramio is also part of Google and has the best set of maps associated with it and hence is the choice for the addidion to the Trainspots site.


---

Flickr:

'Object Name' field and translates it to the image title,

'Caption field' to the description

Consolidates the keywords field, city, state, country and country code into the tags.

The geotagged information, whilst uploaded and retained with the image, will then need to be 'added to your map' by selecting the image and clicking 'add this photo to your map!' on the right hand side of the page. Flickr then reads the geo information and places the image in the relevant place on a map. Sometimes it gets the location name wrong and you may need to change the drop down menu selections. But the geographical location of the image will be as you set it.

There is a Flickr Group for Trainspots.


---

Smugmug:

The 'caption' field is translated to the image description, this can include a URL.

The 'keywords' are used.

But the 'object name' and headline are ignored.

The site uses the geotagged information in the 'map this' section.


---

If you use another web gallery or web photo gallery we would be pleased to hear how the workflow fits in with your site. Please e-mail us any comments you might have.


---

Once you have entered in your information and keywords you can now process your file. The EXIF information will remain attached to the image throughout the editing process.